Introducing Keynote: API Readiness -- Visualizing and Virtualizing by Lorinda Brandon
05 Mar 2015
We are happy and proud to introduce another keynote for APIDays/APIStrat Berlin:
API Readiness -- Visualizing and Virtualizing by Lorinda Brandon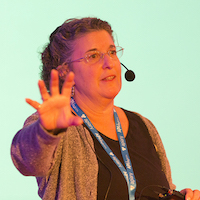 Lorinda is very experienced in all things API and an excellent speaker. In her APIDays/APIStrat keynote she will cover aspects and techniques to help you increase API understanding.
Whether your business relies on your API for revenue and brand awareness or your internal teams rely on it for their applications, it's important that your consumers can rely on your API. Even more important is making sure that your consumers can understand your API. From service descriptions to query tools, your API can be expressed to the outside world in many ways.
Lorinda will explore the various ways in which developers and business people can visualize the structure and capabilities of your API. She'll also talk about the value of mocking and virtualizing – how can you protect your API while also fostering innovation and experimentation?
Here is more info about Lorinda:
Lorinda Brandon has worked in various management roles in the high tech industry including customer service, quality assurance and engineering. She has built and led numerous successful technical teams at various companies, including RR Donnelley, EMC, Kayak Software, Exit41 and Intuit, among others. She is Director, API Partner Development for SmartBear Software. She specializes in rejuvenating product management, quality assurance and engineering teams by re-organizing and expanding staff and refining processes used within organizations. She is a strong advocate for women in IT, promoting the importance of closing the gender gap for upcoming generations.